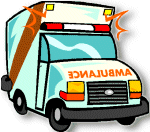 Would you know what to do if someone was having a cardiac arrest? Well come learn how to be a real live hero - attend a CPR class staffed by the New York City Fire Department personnel. These instructors are American Heart Association Certified.
On Monday, April 16, 2007 beginning at 6 pm sharp, there will be a class at PS 161 designed to provide parents with a working knowledge of CPR. The workshop includes active hands-on participation - each registered participant will receive a CPR take home kit. After your training, the kit will enable you to train other members in your household or you will be able to practice CPR at your leisure.
Registration slips were sent home on Wednesday, April 11. Please fill out the form and return to your child's teacher.
--Workshop, Ms. Arthur sponsored, Ms. Barrett approved!